Writing an article is always interesting and requires highly specialized skills. With the advent of the internet and search engines, you also need to consider SEO when writing blogs. Writing engaging, SEO-friendly blogs or articles can also make your article rank faster on search engines.

Verbally expressing thoughts is easy, but writing in an easily understood way is quite difficult.

Writing on websites or blogs requires more skills than writing on paper. It takes many thought processes before you start writing and continuous updating to where it always gets better.

When writing blog posts, you have to consider two aspects: readers (human) and search engines (bots).
What is SEO-Friendly Content?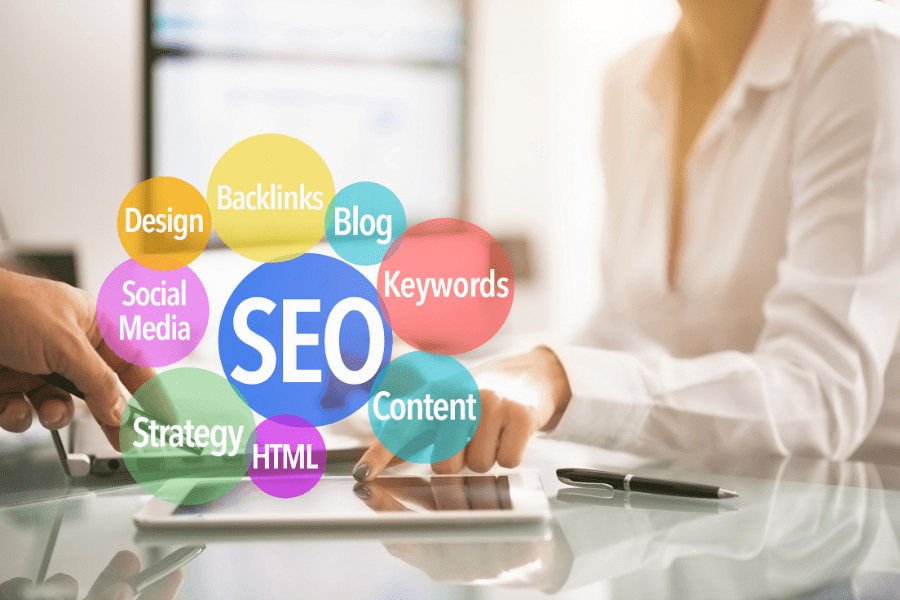 An SEO friendly blog content is content designed for both your users and the search engines they use to find the content. To write SEO friendly content, you should always keep these three elements in mind:
The Quality of Content: Same as products and services, SEO-friendly blog posts are also critical. Quality will bring your readers back.

The Relevance of The Content: Relevancy is important because only relevant readers will read your article. Even focusing on your meta description is relevant, and readers pay attention to that.

Make Sure It's Organic Content: Original content increases readership. Readers like new information in a new style.
Be sure to read the full article about internet bots, as this article is specifically focused on writing posts that are visible to them.
Characteristics Of An SEO Friendly Blog Post/Article
There are two ways available on the internet to reach your readers:
The first is to send them a direct link to the article. The second way is to utilize an optimized post to place it in the top ten results using Search Engine Optimization (SEO).
The more readers you have that can find and read your post, the higher search engines will rank your site in search results.
Let's go through how to write SEO friendly blog posts or search engine-friendly posts so you can start using them.
What The Perfect Blog Post Looks Like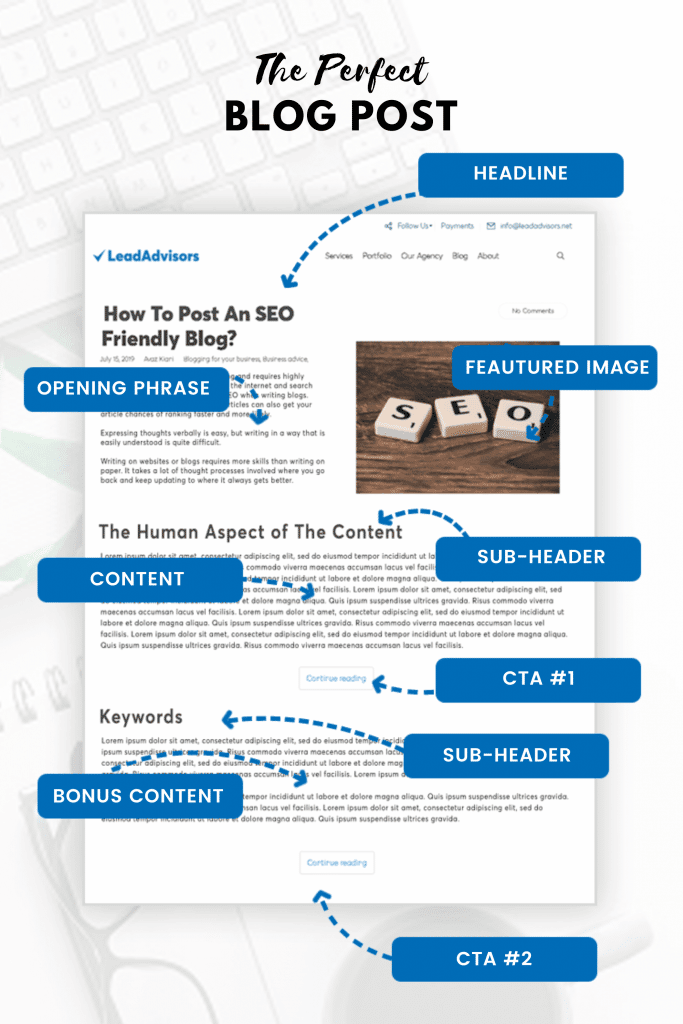 7 Rules to Write SEO Friendly Blog Posts
GRAB ATTENTION
Headlines are read before anything else is. So use this opportunity to grab your readers' attention and make them feel compelled to read on. The meta description is a great way to bring readers in initially.
Great Opening
If you can get a reader to read your blog post's first 3 to 4 sentences, they are 3x as likely to read your entire article.
Featured Image
The featured image serves as a way to shorten the width of the page. Readers prefer fewer characters per line, so you're catering to your audience's preferences by adding a featured image.
SEO Tips: provide alt text for each image, ensuring your content is inclusive while giving more text for crawlers.
SubHeader
With a sub-header, your goal is to benefit your reader, something of value to them that will entice them to keep reading.
Promise people what they will learn or what benefit they will get from this article.
CTAs
This part is up to you. Your #1 CTA should offer something of value to the reader and give the writer something in return. Try "Click to Tweets," which can quote your work. Also, use this area for an email opt-in.
Easy Structure
Create content that's super easy to follow. Use practical ideas to paint a clear picture of the topic. Then, use the step-by-step tutorials, bullet points, videos, graphics, and other features to support everything.
Purchase / Opt-In
Here's your last chance to get your readers to do what you want them to do. Use a strong call to action and clarify that you address any hesitation a reader might have in what you're asking for.
How to Write SEO Friendly Blog Posts

Think Before You Write (Research)
The very first rule of when you start writing is research. You have decided on the topic and now research your topic as much as possible.
The research will give you a broader view of the topic. You will be able to generate quality content. Readers will likely read more once you have quality content, and search engines will rank your link high in search results. Ensure your featured snippet looks clean.
Research and use keywords you'll put in an article to boost your ratings on the search engine.

Also, research important information related to the topic.

Research facts and figures related to your topic.

Research and include appropriate and optimized images with relevant alt text and possible anchor text
Utilizing Keywords For Search Engines
The keyword is the most significant aspect of blog post writing. After deciding on the blog post topic and the main keyword, finding your related keywords is the next thing to focus on.
Use a keyword research tool to analyze which keyword is most searched and relevant to the topic.
Google Keyword Planner is the best free tool for this purpose, which allows the writer to know which keyword has the most search rate and competition. In addition, Google Keyword Planner also gives the advantage of running an advertising campaign.
You can also do your keyword research by typing on Google Search. Write half of the sentence and let Google suggest you different keywords. A keyword that contains 3 or 4 words and gives full meaning is called Long Tail Keywords.
For example, 'Small Businesses Ideas With Low Investment' is a long tail keyword offering complete information.
Google Search prefers long-tail keywords and easily recognizes the concept of a post.

Ensure that the selected keyword is added in a suitable amount, not too little, making a blog post-under-optimized and not too large, making a blog post-over-optimized.

The average density of the keyword is 1.5% to 2%. If your post contains 1000 words, the keyword should be included around 15 to 20 times.
SEO Tips: Excessive use of a keyword will make a blog post over-optimized.
LSI (Latent Semantic Indexing) is good for SEO-friendly blog posts, and LSI is a synonym for the primary keyword.

LSI has two benefits: First, search engines give higher ranks to blog posts using LSI, and secondly, keyword density remains under control.

Keywords must be added in the title, in each main heading, once or twice in subheadings (depending on the number of subheadings), introductory paragraph, the body of the blog post, and conclusion.
Finding Titles for Blog Posts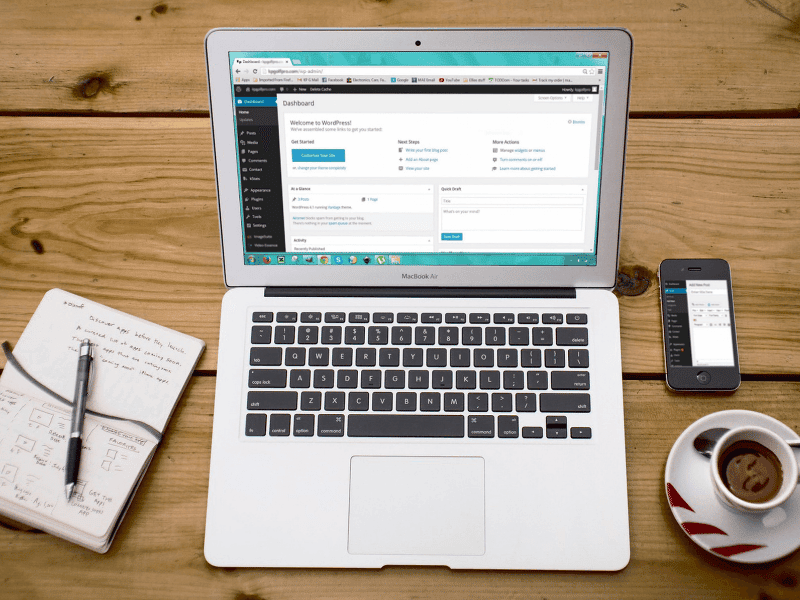 1.  Your blog title suggests the title in Google's search results. Describe your business in a concise, informative phrase.
2.  Domain names are important for Google's search engine. Choose descriptive and easy-to-read domain names for your website. Subpages on your website should be easy to read. For example, use www.leadadvisors.com/services instead of www.leadadvisors.com/prodid?12345.
3.  Meta titles and meta descriptions are page summaries often used by Google and other search engines on the search results page. Write unique descriptions for each page in 160 characters or less. Both the meta title and meta description should use your main keyword.
The Title Should be Specific to the Search Query
If the search query is about the process of uploading YouTube videos, then the title of your blog should be about how to upload YouTube videos, rather than what is YouTube Video?
Titles that start with interrogative pronouns like 'How,' 'What,' 'Who,' and 'Why' are the most appealing titles.
These titles reflect direct questions about the topic of the blog post. For example, titles that start with numbers also appeal to readers.
A title must contain related keywords selected for the topic, as this title will also be your meta title on Google. For example, your topic is about making money online, and the keyword is "Restaurant Marketing Ideas."
The title can be Top 10 Best Restaurant Marketing Ideas.
The title length must be within 55-65 letters, and lengthy titles will not show completely by a search engine.
If the reader doesn't see the full title, how can he know that this title contains the information he is looking for?
Three Main Parts of Post Structure
Introduction
Don't you want every person who clicked on one of your SEO friendly blog posts to read it from start to end, unable to pull their eyes away from the screen?
What is this post all about? An introduction has one purpose: to entice the reader to read the whole article. It has complete information about the article.
Body
The body contains all the information about the title. Research the topic. Express your thoughts, learning, and experience.
Write every possible piece of information you believe can be a good addition to the reader's knowledge.
Conclusion
Relate the conclusion with the introduction. If you've asked the question, make sure you have answered it.
If you have written a story, make sure the end of the story has also been told.
An SEO-friendly Blog Post needs readers' involvement. Reader involvement is expressed when readers comment on the post.
Ask one question at the end of every article to engage the reader and invite them to give their thoughts on the topic.
You can also add links here to your other content.
The more and more readers comment and share a post, the chances of seeing the blog post on top searches will increase. When you add links, focus on your search volume, and work on the overall user experience to increase hits on your blog or post.
Relatable Headings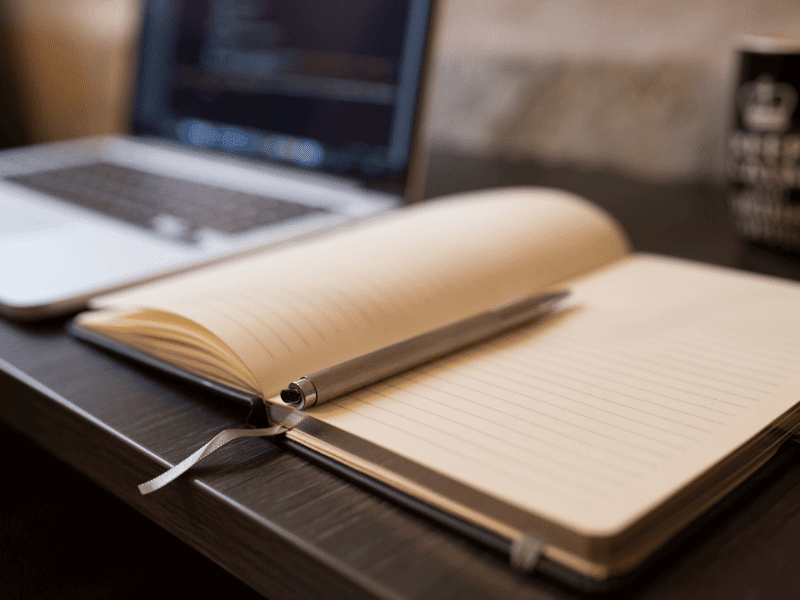 Using headings is an awesome idea to engage the reader for the full article. However, always try to break the article into different paragraphs. Each paragraph should have an independent theme.
Headings increase the visibility of the post. Readers skip over content when they see many words without breaking subheadings.
Subheadings give direction to readers on what the whole article is about. To make an SEO-friendly blog post, use H1, H2, H3, and so on, and search engine crawlers catch the words through headings.
H1, H2, H3… H6 has importance, respectively. Post title automatically selects as an H1 heading. Subheadings consider as H2, and minor headings consider h3.
The more subheadings in the blog post, the more chances for search engine crawlers. Therefore, use the selected main keyword in subheadings.
Length of Article
An SEO-friendly blog post length is a pretty divided topic to discuss. Of course, everyone has a different opinion about it. Here are some tips to help you.
First, do not prolong blog posts without reason or write a short post that ignores relevant information.
Write as per your topic's demands.
The article should contain 300 words at least.
Experts say that posts above 2000 words in length have a good readership, but don't forget two main aspects:
A reader reads articles for 3-4 minutes on average. (For this purpose, make your post length around 1000 to 1500 words)

The bounce rate goes high when the reader switches too quickly. Yes, it isn't easy to manage both aspects simultaneously. That's the way I suggest that write blog posts naturally. Do not prolong without reason, and do not ignore important information to make your post short.
SEO Tips: Make your post length around 2000 to 2500 words to avoid high bounce rates.
Proofreading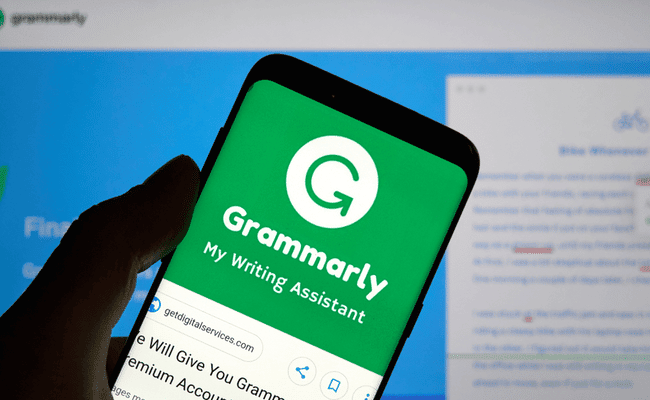 Every piece of writing needs proofreading. Proofreading is critical for every blog post. But, I am sure you don't want to lose your readers.
When readers open a link to read something, they read the writer's thoughts. So if they find some mistake, grammatical, spelling, or misleading facts and figures, they assumes the writer is immature.
They won't come back again. So proofread your blog content not once, not twice, even three times to get the best piece of writing.
Here are simple SEO tips for proofreading:
Proofread the next day of writing with a fresh mind. Maybe you got something to write a new section for content.

Proofread structure of sentences, arrangements of paragraphs, grammatical and spelling mistakes.

Use professional proofreading services or let your friend proofread your piece of writing. Everyone has different thoughts and styles.

Allow readers to point out mistakes if found. I appreciate their efforts and am sorry for them. This little effort will retain and engage your readers.
Writing an article is technical because you must consider search engines and be an SEO-friendly blog post.
Proper keyword research, keyword placement, technical sound titles and headings, appealing introduction and body, and proofreading are critical for every blog post to traffic and increase users.
Which tip is most important in writing SEO-friendly blog posts, in your opinion? Share your thoughts with our readers.
Summary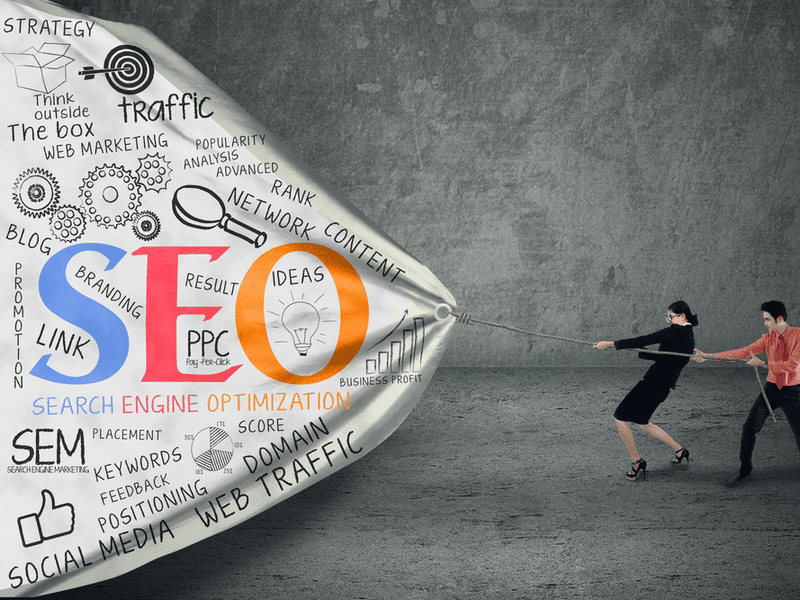 Writing an article is always interesting and requires highly specialized skills. With the advent of the internet and search engines, you also need to consider SEO when writing blogs. Writing SEO-friendly blog posts can also make your article rank faster and bring you more success.
If you're still having trouble figuring out how to write SEO friendly blog posts, our team at LeadAdvisors would be happy to assist you with all of your content needs!
I want to take this out since we have a header right under it, but I'm not sure if it's connected to the picture