Are you looking for innovative ways to grow your real estate business? Generating leads is essential to staying successful in the real estate industry. With the right strategies, real estate agents can ensure that they're consistently engaging with potential buyers and sellers. You need to have a steady stream of new real estate leads to ensure this, and there are several strategies that agents can use to target prospective clients.
In this article, we'll explore 12 actionable ways to generate real estate leads that can help you stay ahead in the competitive market. From utilizing social media platforms and publishing on authoritative websites to attending networking events and conferences, there's a huge variety to what you can get out of your lead generation efforts.
There are always opportunities to compete among the best of the best. Keep reading to learn the best digital marketing practices to enhance your online reputation and form a successful lead-generation strategy.
12 Actionable Ways for Generating Real Estate Leads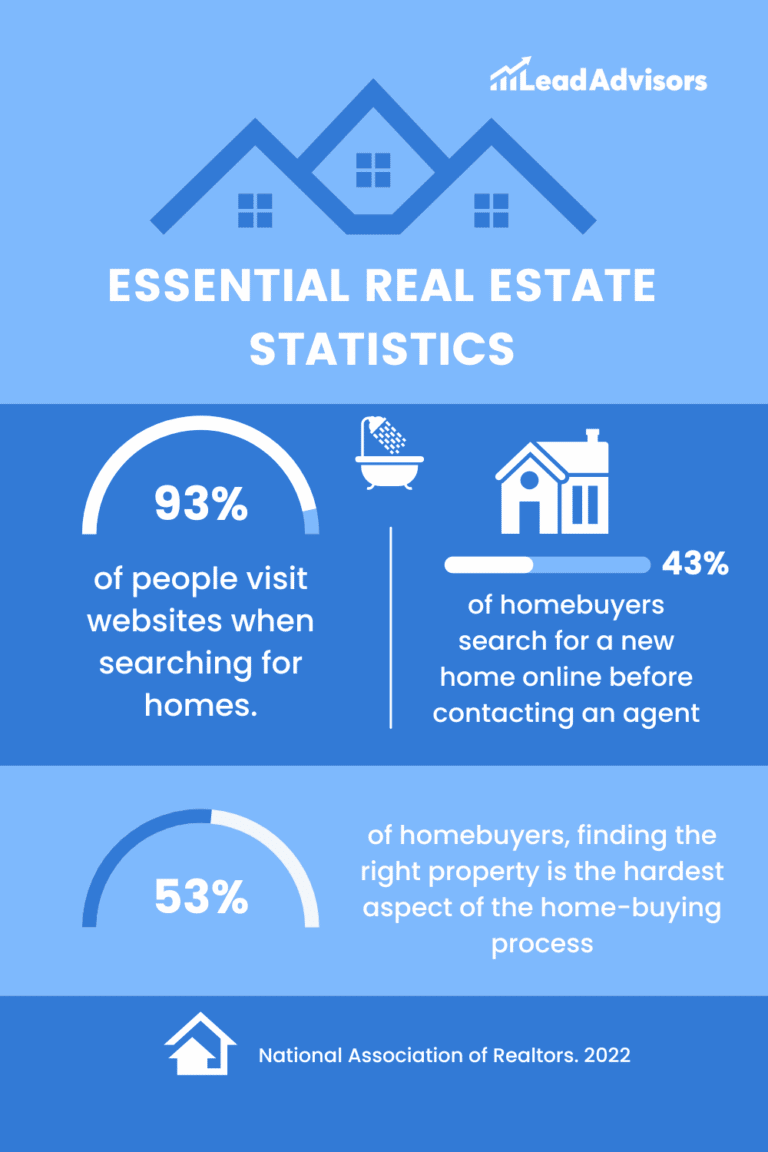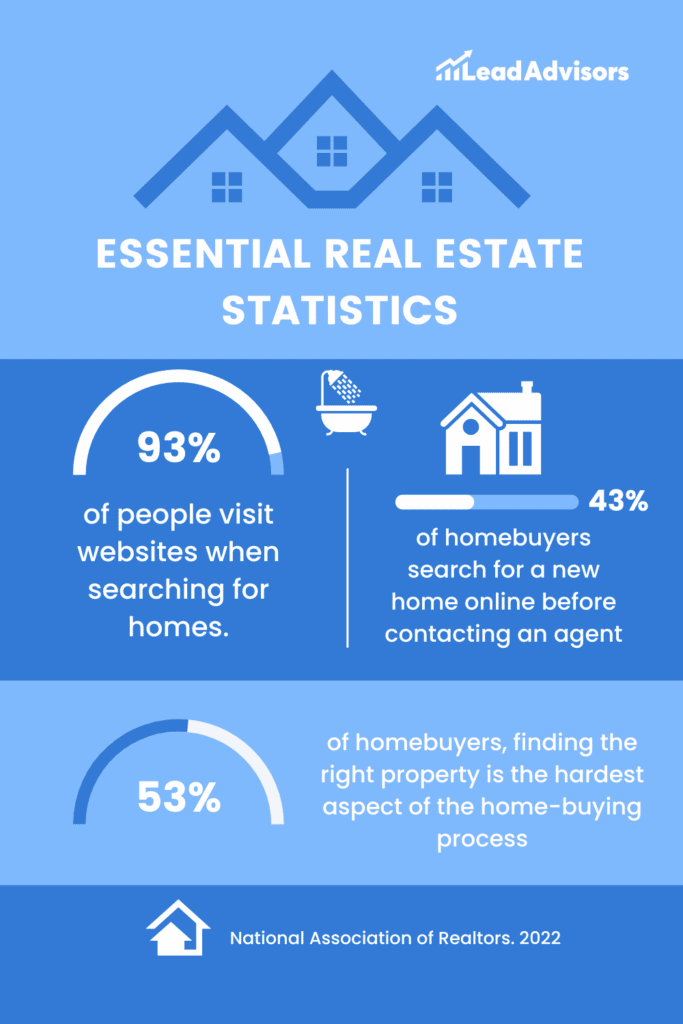 Here are 12 actionable strategies that can be used to generate quality real estate leads. These tips can help you create a solid foundation for your lead-generation efforts and give you an edge over the competition.
Establish your Social Media Presence.
In the current business climate, it's crucial for real estate agents to have a strong social media presence. Social media is valuable for real estate professionals looking to bolster their lead-generation efforts. These platforms provide space to promote your listings, project credibility, and add a little human element to your business persona.
Agents should focus on creating a consistent presence across their platforms, utilizing content that engages their target audience and promotes their services. Additionally, agents should leverage other tools like hashtags, polls, surveys, and reels/videos to better engage with their followers and increase visibility on social media networks. Agents should also prioritize responding promptly to comments on their posts to demonstrate that they are actively engaged with their followers.
Use Instagram / Facebook Stories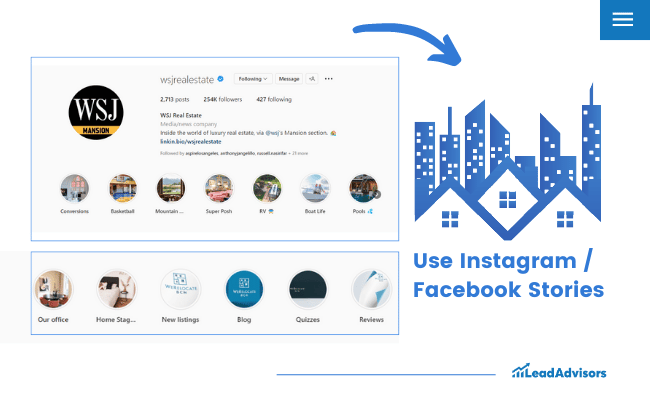 Instagram stories are a creative way for real estate agents to generate leads. Not only are they easy to create, but they also provide an opportunity to create engaging content that can attract potential customers. When creating content for Instagram stories, it's important to ensure the content is relevant and targeted toward your ideal customer.
For example, if you're looking for real estate leads, you should focus on creating stories that highlight what makes your listings unique. Then, showcase helpful tips about the process of buying or renting a home. Additionally, take advantage of features like polls and questions to track who's interested in working with you. 
By leveraging Instagram stories as part of your marketing strategy, you'll be able to increase engagement and build relationships.
Leverage Facebook Lead-generation Ads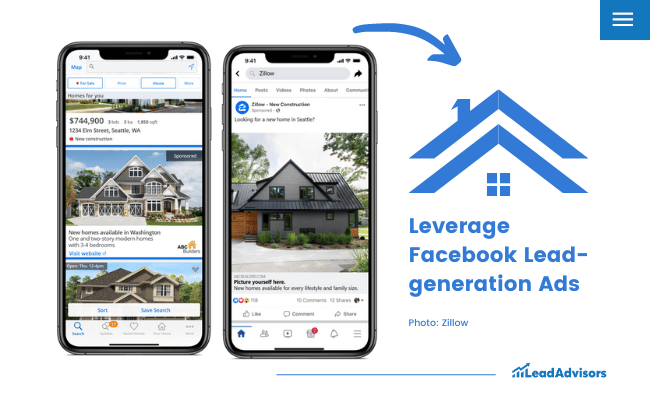 43% of homebuyers search for a new home online before contacting an agent. So, investing in paid online advertising can effectively reach new potential customers. This method allows you to access a greater audience, target specific demographics, and get more control over the content you create. 
When investing in paid online advertising, you must target the right demographic with relevant messages. This will ensure that those who view your ad are genuinely interested in what you have to offer. Additionally, tracking performance metrics is essential when conducting any digital marketing campaign – including one for real estate leads – so you can continuously optimize your content for better results.
Contribute to Thought Leadership Pieces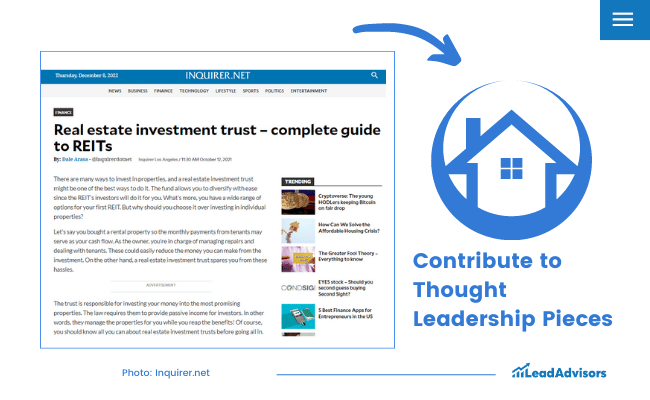 For real estate professionals, thought leadership pieces offer an opportunity to showcase their knowledge within their field. By contributing content that offers valuable insight into current trends, key market insights, or industry best practices, real estate experts can demonstrate their understanding of the market. This will help attract potential customers and new leads. Thought leadership is also an excellent way for companies to stay abreast of developments in the industry's ever-changing landscape and build relationships with other professionals in this sector.
Publish Educational Evergreen Articles
Starting a blog is the best way to maximize content creation, especially regarding real estate leads. A website's blog can be used as an engaging platform for interesting and informative articles designed to attract potential customers. Not only does blogging provide helpful information about a company's services, but it also increases the website's visibility on search engines.
When writing educational evergreen articles related to real estate, consider topics like tips for finding the best mortgage rate or insights on market trends. These helpful resources offer valuable information while providing readers with tools they may need when shopping for a new home. Furthermore, including a call-to-action at the end of each article will invite readers to contact you with any questions or inquiries regarding their search for a new property.
Guest Blog on Authoritative Websites
Guest blogging on authoritative websites effectively generates real estate leads and builds your online presence. It allows you to demonstrate your expertise and reach a wider audience with your message. You can tap into their already-established readerships and attract new customers to your website or blog by posting content on other, more established websites.
When looking for authoritative websites, look for those in the same industry as you, such as real estate or finance. Choosing sites with high domain authority ensures that the links from your guest post will be of greater value. Additionally, make sure that any posts adhere to the website's editorial guidelines; this will help ensure that it gets accepted by the moderators and published quickly. Finally, it is important to remember to promote your post once published to maximize its reach and potential lead-generation impact.
Start Leveraging Reviews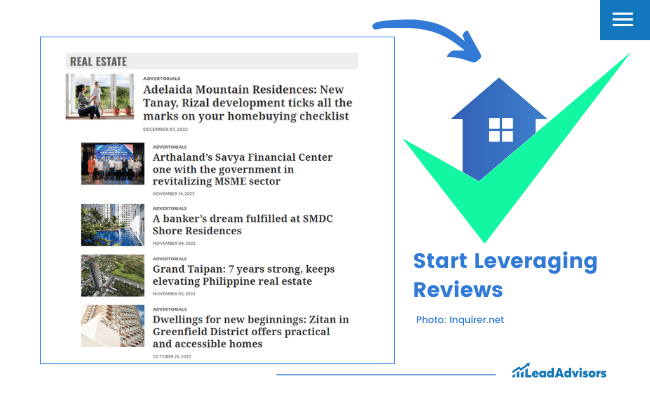 For real estate professionals, leveraging reviews is a great way to generate leads. Reviews provide potential clients with a succinct overview of your services, allowing them to make more informed decisions when searching for the right person to help with their real estate needs.
As a real estate professional, it's important to take advantage of reviews as they serve as an effective tool in assisting you to stand out from the competition and attract new clients. Reviews have many great uses. From social media posts that feature positive feedback, to online directories that allow visitors to read what others have experienced working with you. Additionally, leveraging reviews from authoritative websites allows you to build trustworthiness and credibility.
Ensure to Utilize Real Estate SEO
Real estate SEO revolves around ensuring that listings appear prominently on SERPs when potential customers search for properties. To do this, realtors should optimize web pages with keywords and phrases related to local areas or types of homes. Additionally, incorporating words like "buy" or "sell" into page titles and meta descriptions can help draw attention to pages from potential buyers or sellers.
Finally, SEO techniques like link building can help boost a website's authority and rankings even further. Using these SEO strategies, agents can attract more qualified leads and increase their chances of closing successful sales.
Create Video Testimonials to Spread Social Proof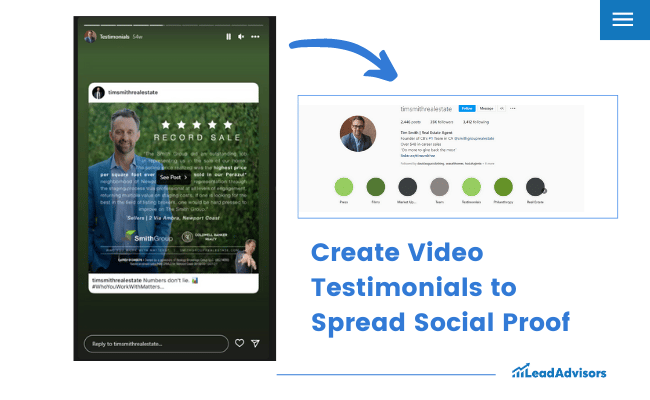 Real estate leads have become a hot commodity in the current market. For 53% of homebuyers, finding the right property is the hardest aspect of the home-buying process. Because of this, real estate agents need to use all the tools available to stand out from the competition. One tool that can be particularly effective is video testimonials – short videos featuring satisfied customers praising an agent's services.
Video testimonials are a great way to create social proof for potential clients browsing properties online. A well-crafted video showing an enthusiastic customer speaking highly of an agent's work will help build trust and credibility with viewers. Creating video testimonials is relatively easy – all you need is a camera and someone willing to share their experiences about working with you as an agent.
Speak at Conferences, Meetups, and Events.
Networking is essential in any business. However, it's even more important in real estate since deals are based on relationships. Connecting with people face-to-face allows agents to form more meaningful connections, which can lead to referrals and repeat business. Having a presence at local events allows them to interact with potential clients who may have yet to hear of them.
It also allows agents to understand their client's needs better, creating an opportunity to provide more tailored service and support. Real estate professionals should take advantage of face-to-face meetings by setting up regular check-ins with each client. Some ideas include hosting brunch or lunch appointments at local cafes or inviting clients to an open house event in your office on a Saturday afternoon.
Launch a Referral Campaign
To launch a successful referral campaign, start by crafting an appealing offer to motivate potential referrers. For example, you can provide financial rewards or discounts with additional benefits for each referral or even gift cards or other items that show appreciation.
Additionally, ensure your message is clear about how the referrer will benefit from participating in the program when sharing information about your services with others. Finally, ensure proper tracking systems are in place so both sides of the transaction can be properly credited for their efforts.
Try LinkedIn for Leads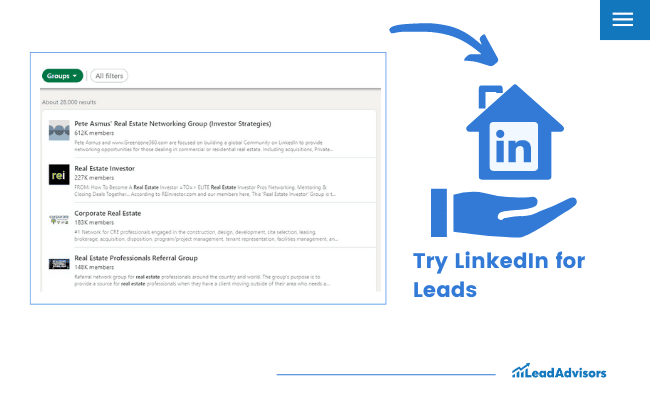 According to the National Association of Realtors, 93% of people visit websites when searching for homes. LinkedIn offers powerful networking opportunities to help you connect with potential clients and grow your network. Unlike other social media networks, LinkedIn allows users to create detailed profiles that showcase their professional backgrounds and accomplishments.
You can easily find people who could be interested in buying or selling a property through targeted searches. You can also join relevant groups related to the real estate industry, allowing you to connect with an even larger audience than before.
Follow Up on Expired Listings 
Expired listings were not sold or leased at the end of their listing period. These properties can provide a great opportunity for agents to make a sale and increase their income. 
By following up on these expired listings, agents can reach out to people who may have been interested in the property earlier but were hesitant or couldn't close the deal in time. Agents need to be persistent with follow-ups, which could lead them closer to making a successful sale. Agents should also be sure to address all questions and doubts customers may have regarding the property before closing the deal.
Invest in a Customer Relationship Management (CRM) Tool.
Investing in a Customer Relationship Management (CRM) tool can hugely benefit real estate agents and brokers looking to generate more leads. A CRM can help streamline the lead generation and capture process by automating marketing activities and providing insights into customer data. 
Using a CRM, real estate agents can quickly segment potential customers, identify buying trends, manage contact information, and ultimately close more deals. With features such as automated emails and text messages, they will have an easier time staying in touch with their prospects while keeping all leads organized in one place. In addition, they'll be able to use the data collected from their leads to track sales performance and make improvements accordingly. 
Overall, investing in a CRM is easy for real estate agents to take control of their lead-generation process while boosting productivity.
Conclusion
Generating real estate leads can seem like a daunting task. However, with the tools and resources listed above, it is possible to build a successful and profitable lead-generation strategy.
Start by utilizing digital marketing tactics such as search engine optimization, email campaigns, and social media marketing. Additionally, remember offline approaches such as meetups and referrals. Finally, consider partnering with other real estate professionals to expand your reach.